Scholarship Profile: Ingebjørg Vamråk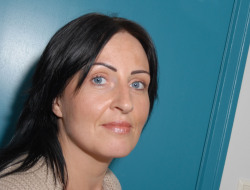 Ingebjørg Vamråk is writing her doctoral thesis on income taxation of derivatives. Her childhood dream, on the other hand, was to become a car salesperson.
24.06.2008 - Torgeir Uberg Nærland (translated by Jessica Hartenberger)
How did you end up at NHH?
"I was a newly educated jurist with specialization in tax law and had a background in economy. A couple of years ago I had taxation of derivatives pinpointed as an area I wanted to research. Last spring, I made direct contact with Trond Bjørnenak, Department Head at the Department of Accounting, Auditing and Law, who instantly showed interest in my project."
Academic background?
"I am an educated jurist from the University of Bergen. In addition, I have basic coursework in administration and organizational science, and I have written various articles in magazines and newspapers."
Research interests?
"Tax law and financial instruments. It is considered a difficult and unexplored area - likely because it is very technical. It is a challenge that, from a taxation point of view, the process is based on the legal form of derivatives, and not on economic substance. Furthermore, derivatives can be combined in many ways thus raising questions regarding tax evasion. Also, from a taxation point of view, remaining international transactions complicate the process because taxation agreements are silent regarding this issue.
Why research?
"It has to do with my personality. I am curious by nature and like to learn new things. In addition, I am an analytical person who likes problem-oriented work. I am also interested in discovering the whole picture."
What do you think about the professional environment?
"For someone who is writing about derivatives, it is an advantage to be at NHH. Additionally, my project has been met with great interest in the academic environment. I "am taking" my supervisor Fredrik Zimmer from the University of Oslo, whom has recently been hired as professor II at our institute. The goal is to build up the legal environment."
When you were little, what did you want to be when you grew up?
"I wanted become either a lawyer or a car salesperson. I was really interested in cars when I was little and I even subscribed to Bil (Car Magazine), when I was thirteen years old. Later journalism was my alternative to research."
Favorite academic book?
"David Held's Models of Democracy. It explains different leadership models and gives insight into "regularities" with regards to leaders and those who are led. Other key points are the relation between power and trust, or legitimization on aggregate levels."
Favourite novel?
"Here, I must name two books. Hamsun's Mysteries and Kafkas' The Process. Mysteries just because it is about life's mysteries. The Process because it shows how crazy things can get if one does not have good systems with a foundational respect for individuals."
What will you be doing in ten years?
"Then, I will be living and researching abroad; gladly, in the Netherlands."