Symposium: Economic experiments in developing countries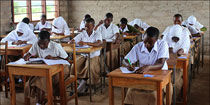 The Experimental Social Science Laboratory, the Center for Effective Global Action at UC Berkeley, and The Choice Lab at NHH is organising the 2014 Symposium on Economic Experiments in Developing Countries (SEEDEC) on 10-11 December at NHH.
09.12.2014 - Astri Kamsvåg
The aim of the conference is to bring together the community of scholars who employ laboratory experimental economics methods for research in developing countries. Keynote speakers at theis year's symposium are Oriana Bandiera (London School of Economics) and Gary Charness (University of California, Santa Barbara). The conference will consist of plenary, parallel, and poster sessions. This is the third time the symposium is being organised: First at the UC Berkeley in 2011 and 2012, and then at NHH in 2013. This year the programme includes 42 presentations.
Read theprogramme for SEEDEC 2014
Read more:
The Experimental Social Science Laboratory (X-lab)
The Center for Effective Global Action (CEGA) at UC Berkeley