Internship agreements with DNB, OC&C and the UN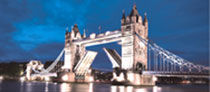 This autumn the International Career Center at NHH has discussed international summer internships for NHH students with DNB, OC&C and the UN/FAO, respectively.
12.12.2014 - Astri Kamsvåg
As a result, the International Career Center will soon be promoting summer internships in London and Rome. And maybe even in Chile if it gets the final approval from one of its discussion partners.
Ann-Mari Haram and Silje Båtsvik Risholm at the career centre are enthusiastic. "We see this as a great opportunity for NHH students to gain international experience in the fields of banking, consultancy or the world of multinational organisations. The International Career Centre will have an information meeting for interested students on 20 January 2015, and we hope that many will turn up. This is truly a unique possibility and we are very happy about the positive response from our corporate partners".
The future summer interns will either be NHH master's students or NHH students that are likely to finalize their bachelor's degree in spring 2015.