Thorolf Rafto Challenge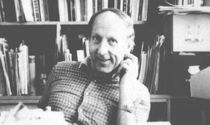 We invite you to the first annual Thorolf Rafto Challenge where business organisations will be challenged to share information about serious human rights dilemmas in the value chains.
03.09.2015 - Øyvind Torvund
Where: Tje Aula at NHH
When: Friday September 11th 2015, 12.15-14.00
Speakers:
Kevin Bales: professor, author, co-founder Free the Slaves
Bjart Pedersen: CSR Manager at Unil AS at NorgesGruppen AS

The Thorolf Rafto Challenge is a lecture held in commemoration of the dedicated human rights defender and NHH professor Thorolf Rafto, with the aim of creating awareness around ethical challenges in business and the attempts to tackle them.

In the first Thorolf Rafto Challenge, NorgesGruppen - Norways largest trading enterprise in grocery retail and wholesale - will share stories from their work with human rights in the supply chain, with a particular focus on modern day slavery. Professor Kevin Bales - world-renowned expert on slavery and human rights in business - will present insights from his long-standing work as a researcher, author and activist.