The 2015 Rafto Prize is awarded to Padre Melo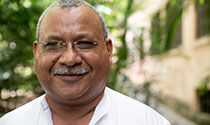 The 2015 Rafto Prize is awarded to Honduran priest Padre Melo for his defence of freedom of expression in one of the most violent countries in the world.
28.09.2015 - Ed.
The 2015 Rafto Prize is awarded to the Honduran priest, radio activist and human rights campaigner Ismael Moreno Coto, better known as Padre Melo. The Prize is awarded in recognition of his use of the media in defence of freedom of expression and fundamental rights in Honduras, a country plagued by extreme violence.
Journalists, human rights activists and others are subjected to serious harassment and death threats, and the murder statistics have been alarmingly high in the past ten years. In this situation, Padre Melo is a fearless spokesperson who works tirelessly to investigate and communicate the reasons for the violence and abuse committed against vulnerable groups in society.
Thorolf Rafto
The Rafto Foundation has since 1987 awarded, annually, the Rafto Prize for Human Rights to advocates of human rights and democracy. The prize commemorates Thorolf Rafto, professor of economic history at NHH. Professor Rafto devoted his life to promoting democracy and respect for human rights, especially in Eastern Europe.
Read more at rafto.no