Jan I. Haaland new Dean of Master's Programmes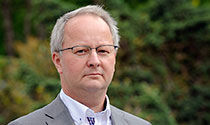 Professor and former Rector, Jan I. Haaland, has been appointed Dean of Master's Programmes at NHH.
26.03.2015 - Astri Kamsvåg
Jan I. Haaland (59) will also be the NHH Academic Director for CEMS, the leading global network for management education.
"I'm very happy that Jan I. Haaland is willing to take the main responsibility for master programmes at NHH for the next four-year period. He has considerable administrative experience and enjoys broad confidence in all academic environments. We're now facing many important strategic decisions, and we need a leader who can help us to find the best solutions for NHH," says Rector Frøystein Gjesdal.
The position of Dean is held for a four-year period, and Jan I. Haaland will take over from Kenneth Fjell in late April 2015.
Ambitions
NHH has two full-time master programmes, the MSc in Economics and Business Administration and the MSc in Accounting and Auditing.
"The master's programmes are very important to NHH," says Jan I. Haaland. "I look forward to helping to develop them further."
He went on to elaborate: "NHH has ambitious plans for future master studies. As part of our internationalisation strategy, these plans include three new international profile courses with English as the language of instruction within the Master in Economics and Business Administration: Economics, Finance and Strategic Management."
"The recently completed evaluation of the master programme in Economics and Business Administration lays a good foundation for further development," says Jan I. Haaland.
The mandate
The Dean heads the programme committee for master's studies at NHH. The committee has overall responsibility for quality assurance of master programmes and its mandate is to ensure that they are at all times optimally adapted to current and future needs in the labour market and society in terms of academic standards, teaching methods and resource use. The programme committee also has an advisory function for NHH Executive in curriculum-related matters concerning the part-time master's programmes.
Academic Director for CEMS
Jan I. Haaland will also become the NHH Academic Director of the prestigious CEMS network for international management education. NHH is the only participating institution from Norway. The CEMS Master's Programme is ranked in third place by the Financial Times.
The function of Academic Director is now included in the position of Dean of Master Programmes. Jan I. Haaland takes over as Academic Director from Tor Aase Johannessen.
Background Jan I. Haaland
- Professor NHH.
- Rector NHH, 2005-2013.
- President of the Norwegian Association of Higher Education Institutions, 2009-2013.
- Council member of the European University Association, 2009-2013.
- Member of the Board of NHH, 2002-2005.
- Head of Department of Economics, NHH, 1999-2001.
- Dean, faculty of economics and business, NHH, 1996-1998.
He has also been involved in numerous evaluations of business schools around the world through the European Quality Improvement System (EQUIS), which is an international system of quality assurance, improvement and accreditation of educational institutions.