Open house on service innovation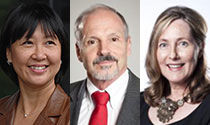 On 4 June 2015 about 30 executives and researchers will gather for one day learning and sharing of ideas with thought leaders within the field of service innovation.
27.05.2015 - Ed.
Photo (from the left): Irene Ng, Roland Rust and Janet McColl-Kennedy.
"CSI was established and located at NHH in 2011. Four years later substantial research on service innovation starts to emerge. As with all larger research programmes, disseminating research is key", says CSI Director Professor Tor Wallin Andreassen who will be heading the Open house.
Center for Service Innovation (CSI) at NHH aims to increase the quality, efficiency, and commercial success of innovation activities at leading Norwegian service providers and enhance the innovation capabilities of its business and academic partners.
In a series of presentations from CSI-researchers and world‐renowned members of CSI's international advisory board, we will share and discuss the latest on innovation research.
Speakers
Members of the Advisory Board and speakers at the Open Day:
- Dr Roland Rust, Robert H. Smith School of Business, University of Maryland (US)
- Dr Janet McColl-Kennedy, UQ Business School (Australia)
- Dr Irene Ng, University of Warwick (UK)
Other s

peakers
- Dr Simon Clatworthy, Professor at Oslo Architectural and Design School
- Dr Amela Karahasanovic, Professor at SINTEF/University of Oslo
- Dr Per E. Pedersen, Professor at NHH
- Dr Siv Skard, Postdoc at NHH
Time and venue
4 June 2015 at 09:30 - 16:00
NHH, Aud. C

Read more about the Open house on CSI's web site