Students providing solutions for companies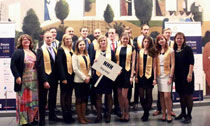 At the kick-off for the business project component of the CEMS Master's in Management programme which NHH offers, 10 companies presented interesting and real business cases to which the students are to find solutions.
06.02.2015 - Ed.
Image: NHH CEMS graduates 2014
The CEMS Master's in Management is a joint one year programme offered by 29 leading business schools across the world. NHH students have the opportunity of choosing the CEMS programme as part of their master's degree. The programme has several mandatory components, one of which is the business project.
Contributing to society

Sunniva Whittaker, Deputy Rector at NHH, explains: "The CEMS students hold a high academic standard, and their project solutions are of great help to the companies. Some of the companies have found the projects so useful that they have implemented them in their organisation."
She continues: "It's great to see that our students have an impact on society, even before they graduate. This is right in line with both NHH's and CEMS' social responsibility obligations."
"The key to success for the CEMS Master's in Management and also for our other study programmes, is the balance between theory and practical application", Sunniva Whittaker states.
A selection of local, national and international companies have been invited to propose projects that will help them solve real issues in their organisation. This year a record number of 10 projects were presented at the kick-off event at NHH on 3 February. A variety of organisations are participating: consultancy firms (KPMG, Accenture and PWC), multinational companies (Statoil, Telenor, L'Oréal, Daymon Worldwide), Haukeland University Hospital, Transparency International and the Game Developers Guild of Norway. Five of these organisations are a part of the CEMS alliance. PWC, Statoil, L'Oréal and Daymon Worldwide all have the status of CEMS corporate partner, whereas Transparency International is one of CEMS' social partners.
International students
The 29 CEMS students who have signed up for the business project are a diverse group consisting of both NHH students and incoming students from other CEMS institutions some from as far a field as Australia and Chile. These students will work together in teams to explore the issues presented by the organisations and to provide solutions. They will present the result of their work in the form of reports and an oral presentation at NHH on 30 April.
Go to the CEMS website