High expectations for the IAEE Conference
In June 2016, NHH will host IAEE's Annual International Conference "We will use the opportunity to showcase NHH and our research," said Gunnar S. Eskeland.
06.02.2015 - Sigrid Folkestad
"We consider this to be incredibly exciting and the conference will give NHH the opportunity to make itself noticed internationally in this field," said Gunnar S. Eskeland, head of the programme committee.
IAEE (The International Association for Energy Economics) is an international organisation with 3,500 members. Each year IAEE arranges an international conference.
Energy: expectations and uncertainty
NHH has now taken on the assignment of arranging the 2016 conference. The keywords for the conference are energy, expectations, uncertainty and risk, including relating to green energy sources, energy security and the petroleum industry.
"The consequences this will have for national and international business are also a natural part of this topic," said Professor Emeritus Einar Hope. He is leading the work with the IAEE Conference.
"We have already sent out invitations to top people," said Gunnar S. Eskeland, Professor at the Department of Business and Management Science.
IAEE's annual conference attracts researchers, business leaders and politicians. As many as 600 participants from all over the entire world are expected at NHH in 2016. Last year the conference was in New York and this year it will be held in Turkey.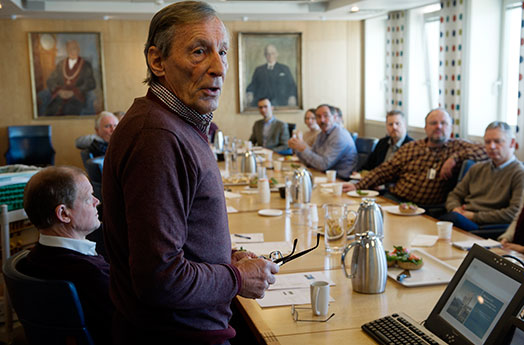 Professor Emeritus Einar Hope is in charge of the work on the IAEE Conference to be held at NHH in 2016. He provided information about the preliminary plans at a lunch for a number of researchers from several departments,
Foto: Helge Skodvin
Input from various fields
On 4 February Professors Hope and Eskeland invited NHH researchers to a lunch meeting. Many researchers from several of NHH's departments were presented with plans, preliminary sub-topics and information about sponsors.
Both NHH Rector Frøystein Gjesdal and Managing Director Nina Skage attended the meeting.
Professors Hope and Eskeland were extremely pleased that NHH researchers from various fields were willing to contribute and support the planning phase. The meeting gave them the opportunity to provide input on various topics and they also held a discussion about the best approach for ensuring the major speeches are given by speakers with international profiles.
The IAEE Conference that is to be held at NHH currently has Statoil and Statkraft as its major sponsors, in addition to support from BKK.
The conference will be held at NHH from 19 to 22 June 2016.
Go the IAEE conference 2016
Go to the blog The Energy Natural resources and the Environment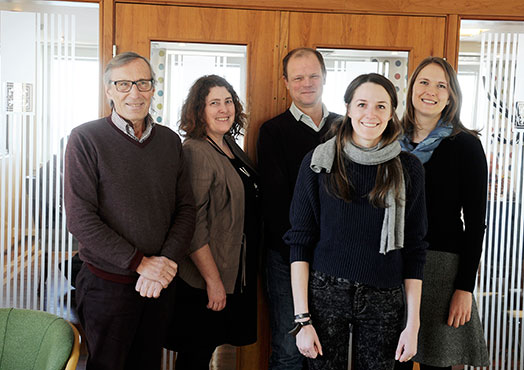 The IAEE 2016 conference committee at NHH (from the left): Professor Emeritus and leader of the conference Einar Hope; organisational leader Linda Rud; professor and leader of the programme committee Gunnar S. Eskeland; PhD student and student representative for the Norwegian Association for Energy Economics Lisa M. Assmann; and Olga Pushkash, administrative coordinator for the conference.
Foto: Helge Skodvin