New PhD Research Scholars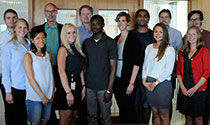 15 new PhD Research Scholars have just embarked on their four-year journey towards a PhD at NHH.
20.08.2015 - Text and photo: Astri Kamsvåg
Helge Thorbjørnsen, Vice Rector for Research at NHH, congratulated the 15 new Scholars for having been selected out of a total of 300 applicants at their first gathering as a group on 19 August.
He introduced the group to the PhD programme and gave the newcomers important advice based on his own experience: "Take every opportunity to present your ideas as often as you can. My best learning experience - ever - was at the University of Illinois when the faculty totally slaughtered my work in 45 minutes".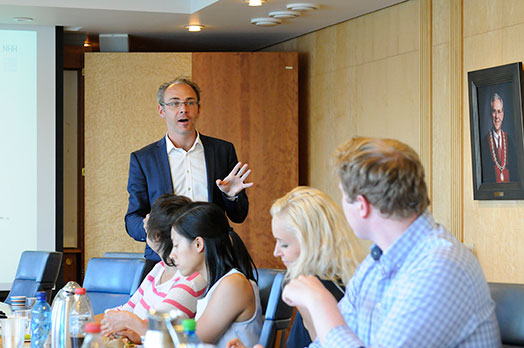 Helge Thorbjørnsen: "Be active!"
Expectations
At the meeting the new PhD Scholars learned about what to expect from this new era in their lives and about what NHH is expecting of them. Helge Thorbjørnsen emphasized that they are expected to participate to the community at NHH and to the department they belong to. "Be active!" he proclaimed.
Approximately half of the new Scholars come from abroad. Quite a few of them have taken their master's in Norway.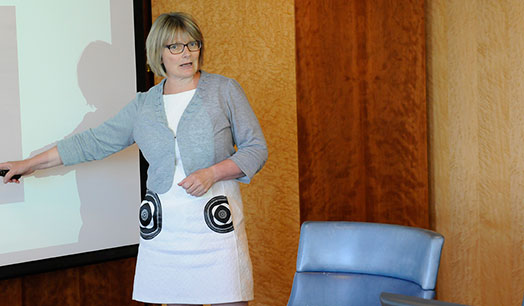 Sunniva Whittaker: "Expect direct feedback!"
Cultural advice
Sunniva Whittaker, who is Deputy Rector and in charge of international affairs at NHH, presented her thoughts on being a PhD candidate in Norway. She talked about the organisational culture at NHH, Norwegian communication styles and the role of the supervisor: "In Norway, explicitness is valued", she told the newcomers.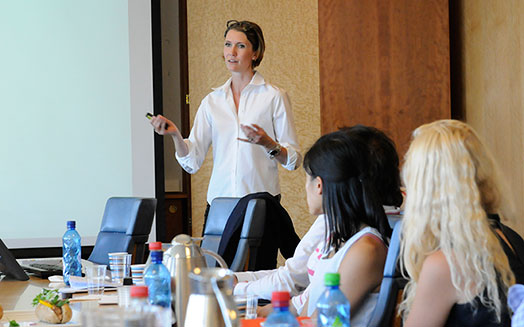 Berit Sund: "Explore!"
"This has been the best years of my life", said Berit Sund, a current PhD Research Scholar at the Department of Strategy and Management, when she presented her own experience as a PhD at NHH. She encouraged the newcomers to:
- explore
- be creative and analytical
- challenge yourself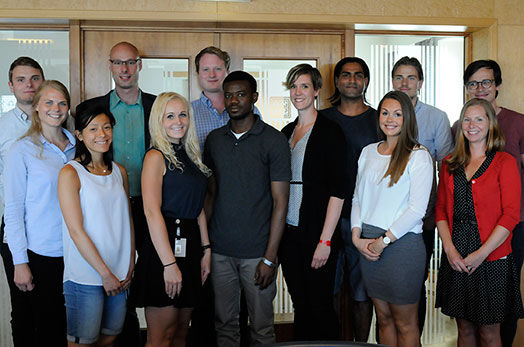 Back row from the left: Erling Riisa, Felix Morency-Lavoie, Andreas Olden, Debashis Senapati, Stig Roar Haukø Lundeby, Ole-Andreas Halse Næss. Front row from the left: Sandra Halvorsen, May Thi Nguyen, Aija Polakova, Abdallah Wumpini Issahaka, Ingvild Lindgren Skarpeid, Silje Rydland Skaar, Cassandra Lee Torgnes.
The new PhD Research Scholars
Department of Business and Management Science
Aija Polakova
Andreas Olden
Mai Thi Nguyen
Ørjan Mydland (funded by Lillehammer University College)
Department of Economics
Felix Morency-Lavoie
Erling Risa
Ingvild Lindgren Skarpeid
Ole-Andreas Halse Næss
Sandra Halvorsen (funded by Chr. Michelsen Institute)
Department of Finance
Debashis Senapati
Stig Roar Haukø Lundeby
Department of Strategy and Management
Abdallah Wumpini Issahaka
Cassandra Lee Torgnes
Yashwant Yadav
SNF (Centre for Applied Research at NHH)
Silje Rydland Skaar
Read more about the PhD Programme on nhh.no