Cecilie Fredriksen to NHH Forum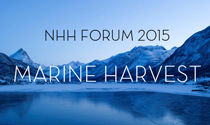 Board member Cecilie Fredriksen and CEO Alf-Helge Aarskog from Marine Harvest will give the lecture at NHH Forum on Wednesday 2 September.
26.08.2015 - Øyvind Torvund
Marine Harvest is one of the largest seafood companies in the world, and the world's largest producer of Atlantic salmon. The company employs 11 715 people, and is represented in 23 countries.

Board member Cecilie Fredriksen is here to tell you why the Fredriksen group has invested in aquaculture.

CEO Alf-Helge Aarskog will give you the secret behind Marine Harvests great success in becoming the leading global protein provider. He will also address key challenges for future growth.
Day: Wednesday 2 September
Place: Aulaen, NHH
Program
09:45 - Light refreshments
10:15 - Cecilie Fredriksen, Board member of MHG and Alf Helge Aarskog, CEO
11:00 - Debate
Panel: Associate professor Linda Nøstbakken, Department of Economics, Associate professor Eirik Sjåholm Knudsen, Department of Strategy and Management, Assistant Professor Sabina Du Rietz, Department of Accounting, Auditing and Law.
12:15 - Lunch in the canteen
Mingle and chat with the speakers and representatives from Marine Harvest.
Read more about NHH Forum at nhh.no