Doing business abroad: When in Rome, do as the Romans?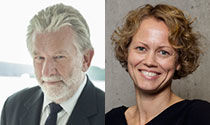 The 33rd FIBE conference will be held at NHH in Bergen on 7-8 January 2016. Key note speakers are Hans-Wilhelm Steinfeld and Tina Søreide.
20.10.2015 - Ed.
The FIBE conference has established itself as the key meeting place for the Norwegian business administration research and higher education community. It raises topical research themes and trends, aims to strengthen and stimulate research, and develop networks between researchers from different educational and research institutions. The 33rd FIBE conference will be held at NHH in Bergen on 7 - 8 January 2016.

The FIBE Conference 2016 is entitled "Doing Business Abroad: When in Rome, do as the Romans?" Doing business abroad requires knowledge of the target society's markets and institutions, as well as its politics and business practices. Doing business abroad may give rise to potential conflicts between the modus operandi of the society and the standards for acceptable business practice in the organization.
Key note speakers
The two keynote speakers will address cultural, legal and political issues that arise when doing business abroad, as well as how such concerns can be overcome in practice.
The first keynote speaker, Hans-Wilhelm Steinfeld (Partner in Corporate Communications), will address the topic "Business and Politics: The Case of Russia".
The second main speaker, Associate Professor Tina Søreide (NHH), will address the topic "Corruption: Taking stock of the challenges".
Parallel sessions will be held on both days to give researchers the opportunity to present and discuss their research work within the whole spectrum of business administration. A key goal of FIBE is to particularly encourage younger researchers to actively participate in a wider forum. We invite both completed contributions as well as work of a more preliminary nature to be presented and discussed during these parallel sessions. The FIBE award for best contribution for research will be awarded during the course of the conference.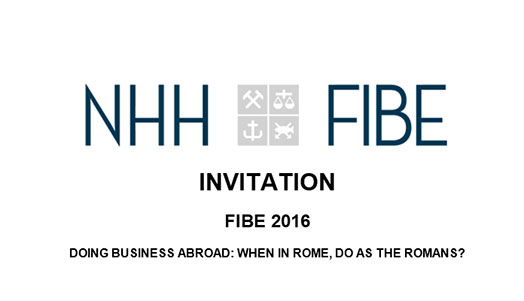 13 December 2015 is the final deadline for:
1. Registration to FIBE 2016
Final registration will only occur once the conference fee has been paid. Participants must cover their own travel and accommodation expenses.
2. Registration and submission of research contributions (paper), summary (abstract) and registration to award competition. The summary must not exceed 250 words.
3. Request for a discussant
Authors of completed research contributions may request a discussant. Please remember to submit notification if a discussant is desired.
The conference programme will be published on FIBE's website on an ongoing basis.
Doctoral colloquium in association with FIBE 2016
In association with FIBE 2016, a doctoral colloquium is being organised at the NHH at which FIBE participants are cordially invited to attend. The aim of the colloquium is to provide doctoral students at different stages of their theses an opportunity to present and discuss their doctoral projects with prominent academics and others who are concerned with similar issues. Further information is available on the NFB website. Doctoral colloquium participants may take advantage of FIBE's favourable agreement for hotel accommodation. For external members of NFB (except NHH-PhD students) the NFB will cover 50% of the FIBE conference fee of NOK 2,400. The remaining conference fee of NOK 1,200 has to be covered individually.
Go to the conference web site