Happiness Professor Michael Norton charmed NHH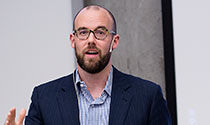 "If you think money can't buy you happiness, you're not spending it right", said Professor Michael Norton from Harvard Business School to the crowd at NHH at today's Life is a Lab event.
12.10.2015 - Text: Astri Kamsvåg. Photo: Silje Katrine Robinson
Happiness professor Michael Norton charmed staff and students at NHH when he gave his lecture "Happy Money: Are you spending your money right?".
Norton is a pioneer in the field of behavioral economics. His research on happiness shows that these five principles make us happy:
1. Buy experiences
Material things turn out to provide less happiness than experiential purchases like trips, concerts, and special meals.
2. Make it a treat
Limiting our access to the things we like best may help to renew our capacity for pleasure. When something beautiful is always available, we are less inclined to appreciate it.
3. Buy time
Ask yourself this quick question before purchasing something: How will this purchase change the way I use my time?
4. Pay now, consume later
Research shows that waiting, even briefly, for something makes it taste better when we get it. Because delaying consuption allows spenders to reap the pleasures of anticipation without the buzzkill of reality, vacations provide the most happiness before they occur.

5. Invest in others
Spending money on other people provides a bigger happiness boost than spending money on ourselves.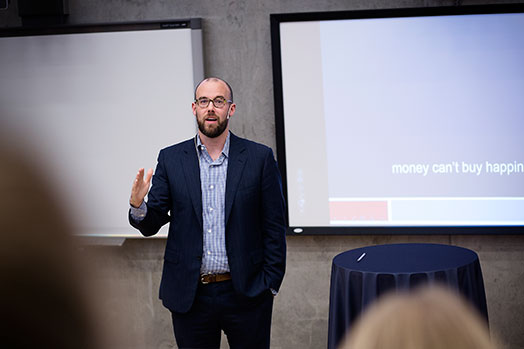 Norton's final statement to the audience was: "Try to focus on other things than money to be happy!"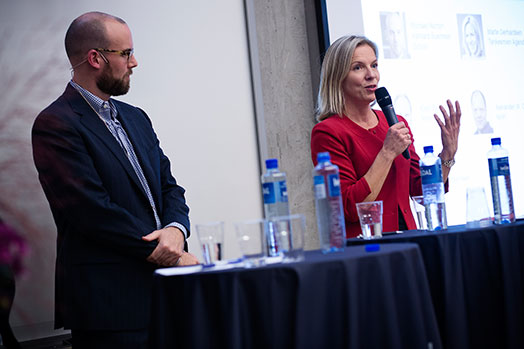 Marte Gerhardsen from the Norwegian think tank Agenda participated in the panel debate. She shared her reflections on DnB's bonus system. "My experience is that bonuses is a dangerous incentive. Celebrating the collective results of a team is more efficient than giving individual bonuses to the team members", Gerhardsen stated.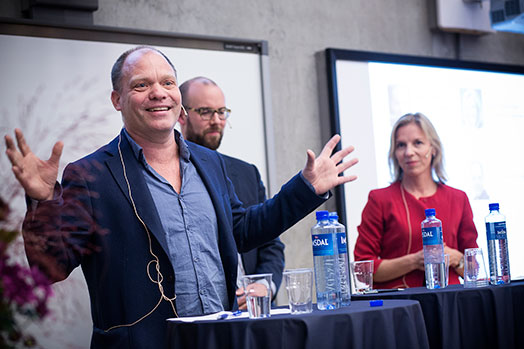 NHH Professor Alexander Cappelen mentioned the Norwegian taxation system as an example of Pay now, consume later.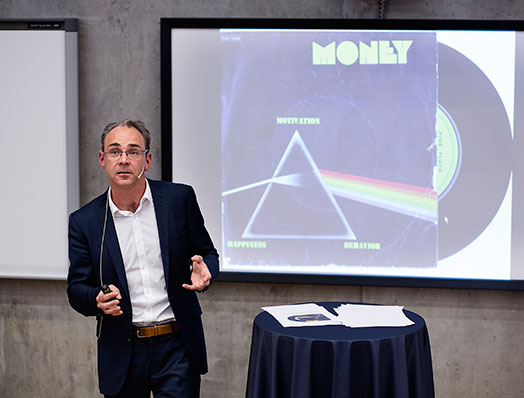 NHH Professor Helge Thorbjørnsen talked about the relationship between motivation, behavior and happiness in his lecture entitled "The psychology of money". People primed on money consider parent-child events as less meaningful. They are also more ego-centric, less social, they cheat more and have a more unethical behavior. On the other hand, they are also less afraid of death, he said.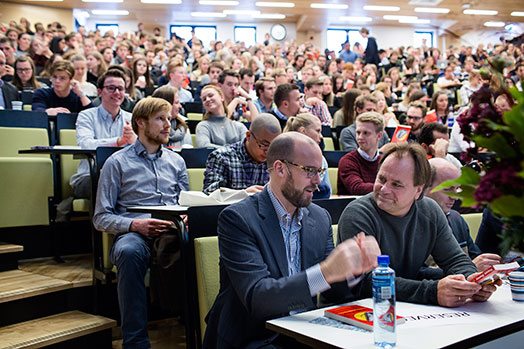 Michael Norton and NHH Professor Bertil Tungodden waiting for the event to start.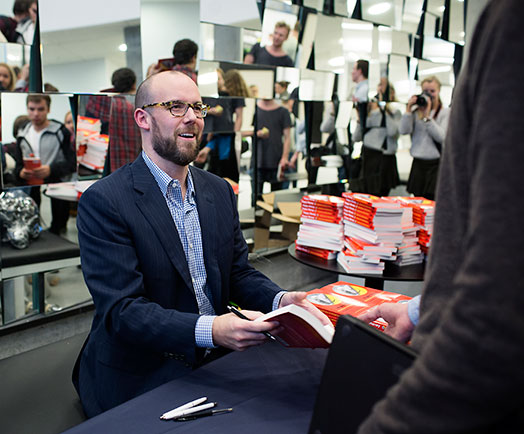 Everyone present received a signed copy of Michael Norton's recent book "Happy Money: The Science of Happier Spending", co-authored with Elizabeth Dunn.
This is the second edition of Life is a Lab, and follows up on the success with Uri Gneezy and John A. List in January 2014. The background for Life is a Lab, which is organised every second year, is the prize for quality in higher education awarded by the Ministry of Education and Research to NHH and The Choice Lab researchers Alexander W. Cappelen and Bertil Tungodden in December 2013 for their bachelor course in economics and psychology.
The next event in the Life is a Lab series will take place in 2017.
Read previous article about this year's event: Life is a Lab: Happy Money