New assistant professors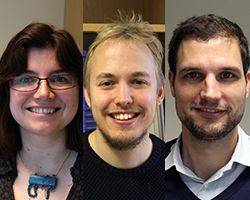 Three new assistant professors joined the Department of Business and Management Science this month.
17.10.2014 - Tobias Munter
Floris Zoutman

Floris Zoutman is 30 years old, Dutch, and holds a PhD from Erasmus University Rotterdam. Previously he has been a visiting scholar at CPB Netherlands Bureau for Economic Policy Analysis, and a visiting student researcher at UC Berkeley.
- I knew some members of the faculty at NHH already, and they convinced me to join NHH. The environment at NHH is very good, with a great atmosphere and coworkers, Zoutman replies when asked why he wanted to work at NHH.
Zoutman will be researching redistributive policies, and teaching taxation and policy analysis.
Evelina Gavrilova

Gavrilova hails from Bulgaria, and is 28 years old. She holds a PhD from the University of Torino and Collegio Carlo Alberto. She has also been a visiting scholar at the University of Essex, University of California, Berkeley and the University of Rotterdam.
- NHH provides good opportunities, and has a good reputation. In addition, I enjoy the weather of Bergen, and the fact that my husband works here as well, she smiles when asked why she chose NHH.
Gavrilova will be researching and teaching the economics of crime and payroll taxation.
Steffen Juranek

The 32-year-old Juranek is German, and holds a PhD from the University of Frankfurt. He comes straight from his PhD work.
- For me the primary draw was the strong research environment at NHH. The work environment and people at the school are good, and I enjoy the Norwegian culture, he says when asked why he joined NHH.
Juranek will be researching law and economics, as well as industrial organization. In addition, he will teach a course in management control.