Invitation to the NHH Christmas dinner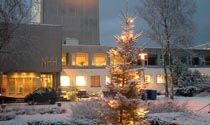 You are cordially invited to attend the NHH Christmas dinner on Friday 28 November 2014.
22.10.2014 - Ed.
The event will be held in the Aula, and is for both administrative and academic staff, including PhD students and research active professor emeriti.
Welcome drinks and light entertainment from 7pm, followed by a delicious Christmas dinner buffet. After dinner, dance music is provided by our very own Big Business Band.
There will be a bar available after dinner (card and cash).
Register for the event by 17 November at the latest!
Do you have a talent for entertaining? Would you like a few minutes in the spotlight during this event? If so, the organising committee is interested in hearing from you!
Contact Mette Franck Johnsen on Mette.Johnsen@nhh.no or tel 59508.