Still well placed in the new FT ranking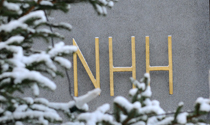 The Financial Times' prestigious main ranking of Europe's best business schools is published today. The Norwegian School of Economics (NHH) keeps its ranking from 2011.
03.12.2012 - Ed.
This year, the main 'European Business Schools' ranking includes 80 European business schools. NHH comes in 44th place, the same as last year. The school has climbed 13 places in the last five years.
'That is a positive development that we are very satisfied with, particularly since we know that the competition is increasing. If we are to continue to climb up the ranking over time, the most important thing for us is to constantly endeavour to develop the quality of the education we offer. And that is what we are doing,' says NHH's Rector Jan I Haaland.
The main 'European Business Schools' ranking is based on five different sub-categories: Global MBA, Executive Education open programmes, Executive Education custom programmes, Masters in Management, and Executive MBA. This year, NHH has taken part in three of these sub-categories.
NHH/AFF's open programmes come in 17th place in Europe in the ranking of Executive Education open programmes - its highest ever ranking.
'Executive Education is the area in which the competition is toughest. We compete with the world's best business schools and manage to do well,' Haaland says.
A group of 12 business schools tops this year's main ranking. The Spanish IE Business School comes in first place this year, followed by HEC Paris in second place. London Business School is number three.
NHH is in the next category, together with Nordic colleagues such as Stockholm School of Economics (20th place), Aalto University School of Economics (21st place) and Copenhagen Business School (39th place).
'The Financial Times rankings are important because they contribute to raising our international profile. NHH is an international educational and research institution that recruits students from all over the world. The ranking gives us valuable attention in a demanding market,' Haaland says.
Contact information:
Rector Jan I Haaland, tel. (+47) 55 95 92 17/957 96 865
Acting Communications Director Kristin Risvand Mo, tel. (+47) 55 95 96 61/915 99 661