Kunze and Jensen quoted in The Financial Times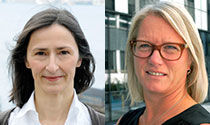 The Financial Times quotes two NHH researchers in an article on gender dimensions.
10.04.2015 - Ed.
Photo: Astrid Kunze to the left, Sissel Jensen to the right.
The article "Corporate peak still out of reach for most women", published in the beginning of March 2015, refers to unpublished articles by Associate Professors Astrid Kunze and Sissel Jensen respectively, both at the Department of Economics at NHH.
"An unpublished working paper by Marianne Bertrand, Sandra E Black, Sissel Jensen and Adriana Lleras-Muney found that female directors appointed after the reform were better qualified than their predecessors and that the gender gap in earnings within boards fell. But it found no evidence that better female representation among the very highest earners in these companies trickled down through the businesses more generally. Overall, the reform had "very little discernible impact on women in business beyond its direct effect on the newly appointed female board members", it concluded."
The paper referred to can be downloaded at The National Bureau of Economic Research: "Breaking the Glass Ceiling? The Effect of Board Quotas on Female Labor Market Outcomes in Norway".
The findings of the researchers presented in the paper have also been quoted in an earlier article in The Financial Times: "Norway leads push for gender equality but has a long way to go" (August 2014), as well as in other international newspapers, including The Wall Street Journal and The New York Times.
The article in The Financial Times continues:
"Another unpublished academic working paper on business in Norway paints a slightly different picture. Astrid Kunze and Amalia Miller found that women with the same years of education, work experience, tenure and hours of work as men were less likely to be promoted than men. Yet the results of the study still suggested recruiting and retaining more women among the ranks of bosses could help to reduce the gender gap in promotion."
Other recent quotes by NHH researchers in The Financial Times
Professor Frode Steen, March 2015: Norwegian Air Shuttle grounded by pilot strike
Post-doctor Johannes Mauritzen, January 2015: The attractiveness of electric cars has little to do with the price of oil
Professor Paul Gooderham, October 2014: Yara soap opera rewrites script for reserved Norway