Decline in Children's Academic Performance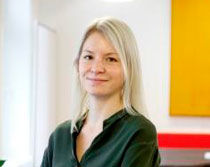 There may be major unintended consequences when society restricts benefits. This is felt by the children of young single mothers. The effects of little money at home and less time to focus on children are pronounced in lower secondary school, where their marks are clearly lower.
22.12.2014 - Text: Sigrid Folkestad. Photos: Helge Skodvin
The transitional benefit for single parents was heavily cut back in the late 1990s. Before the reform, they could receive financial support until the youngest child was aged 10, and was beginning third grade.
About 70 per cent of single mothers received this benefit for varying periods of time. After the reform, this share fell to 30 per cent.
New doctoral thesis
On paper, this looks like a successful reform, but in her doctoral thesis, Katrine Holm Reiso shows that many single mothers switched to other benefits. They did not become self-supporting, even though they were no longer represented in the transitional benefit statistics.
"Many of them became social assistance recipients or received other types of benefit. Benefits were merely substituted," says Katrine Holm Reiso.
She has been a doctoral student at the Department of Economics, and affiliated with the Center for Empirical Labor Economics (CELE), where researchers work on issues related to empirical labour economics.
Reiso will defend her thesis in December. In her thesis, she wanted to also look at the long-term effects of reform in the welfare system.
What is the effect on children when mothers no longer are entitled to transitional benefit, and need to receive social assistance or spend much time away from home because of work?
Begin working earlier
The reform introduced a three-year time limit on the benefit.
"The work requirements actually meant that when your youngest child was aged three, you either had to hold 50% of a full-time position, study or register as unemployed.
This was a great change. The goal was for more women to become less dependent on social benefits. The consequences were not only felt by the mothers," says Katrine Holm Reiso.
She wanted to take a closer look at what happened to the children of single mothers towards the end of their time in lower secondary school.
Academic performance
Reiso was able to study the marks of 16-year-olds using Norwegian register data. She compares them with children who were born a few years earlier and did not experience the curtailment of the transitional benefit.
"They perform more poorly, and there are greater differences between the children of single mothers and the children of married mothers," says Reiso.
Reiso and her co-authors show that the children of young single mothers are particularly exposed to the negative consequences of the reform.
"As a society, we might have hoped that the reform would lead to higher income and possibly also changed attitudes regarding work, education and social benefits. This in turn would have improved the children's academic performance. If we look at the children of young single mothers, we actually see a great decline in academic performance," says Reiso.
Decline in academic performance
"When the children turn 16, this can be seen in their marks. Here we find a clear correlation between family situation and finances, on the one hand, and performance, on the other. Children of young single women have performed more poorly academically since the reform. There is a clearly negative trend in the differences between the children of young married women and young single mothers.
The average marks and results from written and oral examinations have fallen on the whole by 7 percentage points.
Reiso distinguishes between two groups of young single mothers. One subgroup has worked more since the reform. The family finances have improved slightly, they do not have much more to spend, but because the women work, they spend much less time with their young children.
"Many young mothers work more after losing the benefit. That is why this group's income has not declined, but their children spend more time alone. The mothers are not there when their children come home from school, and cannot help them with homework or give them the time and attention they need."
Time and money
The income of the second subgroup of young single mothers has declined greatly due to the loss of the transitional benefit. They did not work before the reform, and do not take up work as much following the loss of the benefit.
"Not everyone is able to find a job, which is why they receive other benefits. I primarily see an increase in reception of social assistance. I also see disability benefit, rehabilitation and occupational rehabilitation. These are benefits people receive before working or becoming disabled.
They are unable to maintain their income level when these reforms take place. As we know, loss of income has a negative impact on children's opportunities for self-expression."
A decent life
"If you look at the reform in general terms, on the whole fewer single mothers receive benefits, and on average they work more. This is positive from a pure cost-benefit perspective. I also think it is healthy to have role models in the form of working mothers.
However," says Reiso, "politicians should keep in mind the potentially negative effects on children's development.
"When single mothers are encouraged to work more, we must ensure that young children have good options available to them when the adult in their family cannot be at home."
"Would you say that this was a misjudged reform?"
"In my mind, it is good that more people have begun working, and that benefit disbursements have declined as a whole, but I think it is important to keep a greater focus on the consequences when we plan reforms. Benefits must be seen as a whole, not separately, because they will probably have a spillover effect on other types of programme and benefits. This must also be taken into consideration."
Restrictions?
"More generally, are you concerned with restrictions in benefits?"
"You could say that. If you look at the benefits, a lot of money comes out of the benefits system. But what is the alternative? You can look at society as an extended family, where we have an obligation and a responsibility to take care of some of our family members. So I would not be so strict, precisely because I believe that some people do not function in working life, particularly during certain phases of life."
"There is always a risk that the system will be abused, but it is important that those who need financial assistance receive what they need to live a decent life," concludes Reiso.
Facts
The purpose of transitional benefit is to ensure sufficient income to cover living expenses for persons who are the sole carer of a child. The benefit is granted for a limited period and varies according to the child's age and needs.
Full transitional benefit is NOK 16 569 a month and is reduced if your earned income constitutes an annual income of NOK 45 000 or more.
The article has been published in NHH Bulletin No. 4/2014.