Thanked the school - and themselves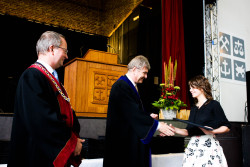 A formal ceremony marked the end of five years of economy studies for nearly 150 fresh masters of economics and business administration graduates. The students thanked the school, but first and foremost themselves for outstanding achievement.
26.06.2008 - Eivind Senneset (translated by Jessica Hartenberger)
The first class to have accomplished the five year master of economics and business administration at the Norwegian School of Economics and Business Administration (NHH), finished their studies and received their diplomas on Friday. The occasion was recognized by a new and formal ceremony.
"This is a monumental day for us as well as you. It is not every day that one accomplishes five years of higher education. Simultaneously, we must admit that you all have been pioneers with regard to the study structure," said NHH Rector Jan I. Haaland during his speech to the graduates.
The Masters in Economics and Business Administration program at NHH was expanded, in 2003, from four to five years due to the Quality Reform [Kvalitetsreformen] and changes within the Norwegian higher education system. The masters study structure, consisting of a three year bachelor program and a two year masters program, was introduced to NHH as well as many other Norwegian universities and colleges. The estimated 150 master candidates, who received their diplomas on Friday, were the first class to accomplish the program after such changes.
"We live by and for good students. Skillful staff is nothing without students who are academically on top and contribute to the NHH environment in a unique way. We owe you all a big thank you," said the Rector.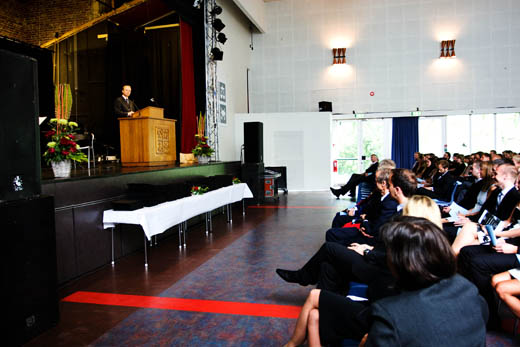 DEAN OF MASTERS. Iver Bragelien is the Dean for the masters programs and gave a speech to the graduating students.
Foto: Eivind Senneset
At least 38 exams
The students also thanked themselves:
"Someone deserves a thank you for the fantastic study experience we have had, and that someone is ourselves. But it is the school that has made all of this possible," said Kjetil Anfinnsen during his student speech to the graduates.
"In the years ahead, NHH's biggest challenge is to assure that future classes receive an equivalent or better offer, an offer that we have received great benefits from," stressed Anfinnsen, clarifying that the students who had taken all five years at NHH now had completed at least 38 exams, and likely many more.
"Five years of study has done something to us. It is fascinating to see how we have developed from going and getting a Dagens Næringsliv to actually reading and understanding its contents," joked the masters candidate.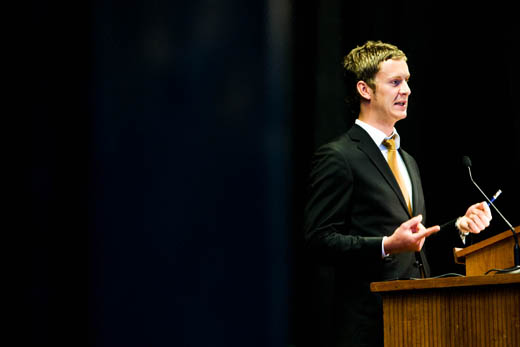 STUDENT SPEECH. Kjetil Anfinnsen stressed that the students, to a large extent, had themselves to thank for a fantastic study experience.
Foto: Eivind Senneset
International School
Both students and professors recognized the school for having developed an increasingly international environment over the past years.
"We are presumably the most internationally-oriented educational institution in Norway," said Rector Jan I. Haaland.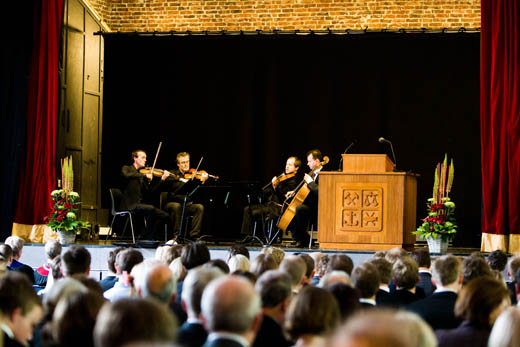 String Quartet, Sedici Corde, performed for the cultural element of the first NHH-Graduation.
Foto: Eivind Senneset